Did you know?... 1 in 5 employees surveyed in AXA's 2020 World of Work: Mind Health Report experienced mind health difficulties while working away from home. What's more, adapting to the challenges of a new culture in their new country of work is the number one reason international assignments end early.
International assignments involve a high level of investment, costing $69,429 on average, over and above an employee's salary. You can support your remote employees' wellbeing and protect your investment by taking a pro-active approach to mental health. This could benefit you and your business by increasing productivity and employee engagement, and lower the number of long-term absences caused by stress and anxiety.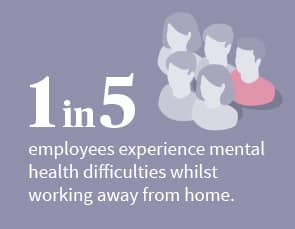 Global research in communication has shown that 55% of what we communicate is revealed through body language: 38% through tone, and only 7% in the words we say. This highlights the benefits of interacting with your remote workers in different ways, from phone calls to virtual meetings. By interacting visually, you're less likely to miss important body language cues, or misinterpret tone, which can happen when relying on email alone.
Did you know?... 64% of employees surveyed agreed that their employer could do more to support their mental health and 50% said that their employer only offers support in response to a crisis.
By paying close attention to the individual mental health needs of your international employees, you can ensure that the support you provide works for them.