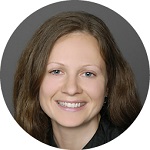 Written in collaboration with Dr Charlotte Panuschka, MD
Prior to joining Teladoc Health (previously Advance Medical) as a Senior Physician Case Manager, Dr. Charlotte Panuschka was a visiting fellow at the Department for Otorhinolaryngology Head & Neck Surgery at Guy's Hospital in London, UK.
In this misdiagnosis series, we've been talking to Dr Charlotte Panuschka, who's a Senior Physician Case Manager at Advance Medical – the provider we use for our Virtual Doctor service. We've been finding out more about what a misdiagnosis is , commonly misdiagnosed condition and why they're often mistaken, as well as how it can be avoided. For a complete guide to misdiagnosis, click here.
When you're feeling unwell, it's not always easy to find out exactly what's wrong straight away. There are lots of conditions which have the same, or very similar symptoms, and some that show up very alike on scans and in test results, which can mean they're often mistaken for each other.
A misdiagnosis can be made for a number of reasons, and often forms part of the diagnostic process. It can be tricky to know straight away the cause of symptoms without any tests, so medical professionals may use a suspected diagnosis until tests and further investigations can either confirm it, or help them to try and find another explanation.
The problem comes, however, if an incorrect diagnosis is given, and leads to ineffective treatment – in some cases, this means that the patient is simply left feeling unwell for longer than they needed to, but for others, it can have more harmful consequences.
There are some conditions that receive a delayed or mistaken diagnosis more frequently than others, such as cancer, heart attack, meningitis, dementia and iron deficiency anaemia. Dr Charlotte Panuschka has spoken about these conditions and why they are commonly missed or mistaken for other problems: