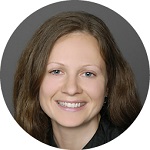 Written in collaboration with Dr Charlotte Panuschka, MD
Prior to joining Teladoc Health (previously Advance Medical) as a Senior Physician Case Manager, Dr. Charlotte Panuschka was a visiting fellow at the Department for Otorhinolaryngology Head & Neck Surgery at Guy's Hospital in London, UK.
In this misdiagnosis series, we've been talking to Dr Charlotte Panuschka, who's a Senior Physician Case Manager at Advance Medical – the provider we use for our Virtual Doctor service. We've been finding out more about what a misdiagnosis is, commonly misdiagnosed conditions and why they're often mistaken, as well as how it can be avoided.
A misdiagnosis can have a range of consequences, from being given the wrong medication, to delaying treatment for a more serious condition altogether. When making a diagnosis, a primary care medical practitioner will ask about your symptoms and take medical history and review results from any diagnostic tests, and then use professional judgement to understand what the problem is.
Find out more about what a misdiagnosis is, here .
What can patients do to reduce risk of misdiagnosis?
Visiting your doctor or specialist should be a collaboration. Patients need to feel empowered to know they can ask questions and push for investigations if something doesn't feel quite right, without feeling intimidated. It's important to feel that you understand what you're being told by your doctor, and feel comfortable with what they're asking you to do, and why. Dr Charlotte Panuschka suggests these tips to get the most from your medical treatment and to avoid misdiagnosis: