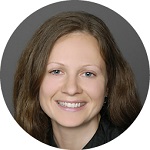 Written in collaboration with Dr Charlotte Panuschka, MD
Prior to joining Teladoc Health (previously Advance Medical) as a Senior Physician Case Manager, Dr. Charlotte Panuschka was a visiting fellow at the Department for Otorhinolaryngology Head & Neck Surgery at Guy's Hospital in London, UK.
In this misdiagnosis series, we've been talking to Dr Charlotte Panuschka, who's a Senior Physician Case Manager at Advance Medical – the provider we use for our Virtual Doctor service. We've been finding out more about what a misdiagnosis is, commonly misdiagnosed conditions and why they're often mistaken, as well as how it can be avoided.
A misdiagnosis is when a medical professional makes an incorrect judgement on your symptoms and diagnoses you with the wrong thing. As an example, imagine you'd seen a doctor about ankle pain and had been diagnosed with a sprain, and advised that it would heal on its own with rest and pain killers, but later discovering that you'd actually fractured your ankle and needed further treatment.
A misdiagnosis can have a range of consequences, from being given the wrong medication, to delaying treatment for a more serious condition altogether. When making a diagnosis, a primary care medical practitioner will ask about your symptoms and take medical history and review results from any diagnostic tests, and then use professional judgement to understand what the problem is.
The World Health Organisation (WHO) reported that approximately 5% of adults in high-income countries are misdiagnosed during out-patient appointments each year. This can simply mean being treated with an ineffective medicine, but unfortunately, the WHO has found that over half of misdiagnosis cases could have caused harm.